Back To My Friends
Ramiel - Staff Pick and Video!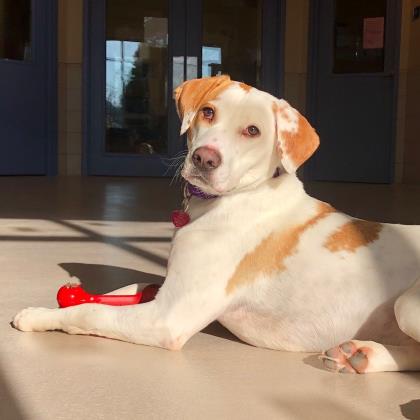 Ramiel - Staff Pick and Video!
Ramiel is Lainey's staff pick because of his vibrant personality and desire to learn. He is a sweet ball of energy and would consider himself to be a professional pupperoni eater! Because of his high energy level and rambunctious play style, Ramiel is looking for a home that has an abundance of patience, and someone who is prepared to spend time with him doing positive reinforcement training.

Ramiel is a healthy and smart, young dog. He follows commands (sit, stay, come) and is house trained. He is a quiet dog. Ramiel loves running in open fields and retrieving chew toys. Watching Ramiel play, you would never suspect that he is blind. He does everything other dogs do with confidence. His strong sense of smell and hearing, and a fantastic memory, serve him well in negotiating the house and yard. Ramiel is a good eater and enjoys healthy snacks. He enjoys being around people and quickly learns their routines. Ramiel is looking for a home with practical routines and an abundance of love.
---
All About Me!
Location
Milwaukee Campus
Color
White | Tan
Age
1 years, 11 months
Sex
Male
Neutered
Yes
Weight
59 pounds
Guest Number
45283265
Matchmaker
Green People
Personality
Life of the Party
Family Recommendation

PG-13

No children under age 13
Adoption Price
$209.00