Back To My Friends
Zeus - Required Couple!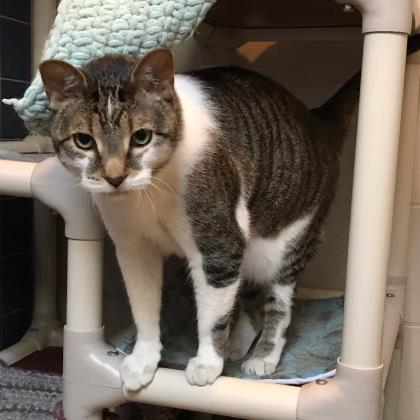 Zeus - Required Couple!
Meet Zeus and Smudgin! These two have been together their entire lives and would love to continue living together. Smudgin is the shy guy of the two, happy to lounge in the corner and watch the action go by. Her brother Zeus on the other hand, may be a little wary at first (as is his right in his old age), but give him a few minutes and you will be treated to a symphony of purrs and a flurry of biscuit making. This beautiful duo is just waiting for a couch to lay on and a perfect sun spot to snooze in. Do you want to give them a perfect home for their golden years? Come meet them today!
---
Zeus - Required Couple! and Smudgin - Required Couple! have lived together for a long time and are friends! We don't want to split them up, so they've both got to go to the same home together. If you have the room and the love, please consider adopting them both!
---
All About Me!
| | |
| --- | --- |
| Location | Milwaukee Campus |
| Breed | Domestic Shorthair | Mix |
| Color | Brown | White |
| Age | 11 years |
| Sex | Male |
| Neutered | Yes |
| Declawed | No |
| Weight | 14 pounds |
| Guest Number | 9006876 |
| Adoption Price | Name Your Own Fee |