Back To My Friends
Yeti - REQUIRED COUPLE!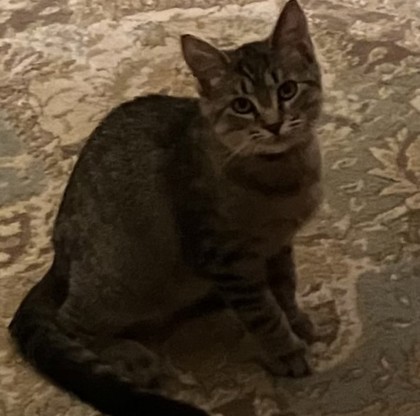 Yeti - REQUIRED COUPLE!
Yeti is currently available for adoption in a Milwaukee-area foster home!

Meet Yeti! This large, beautiful kitten is very gentle, sweet, and loves to purr while sitting in your lap. Yeti is working on boosting his confidence and coming out of his shell. He loves treats, and will look for an opportunity to sneak some high value kitty snacks! Yeti is rather attached to his brother, Stanley. They can often be found snuggling with each other or playing together. They are currently hanging out in a spare bedroom at their foster home and are frequently heard chasing toys and each other! These boys definitely know how to have fun together.

Slowly and steadily, Yeti is becoming less and less fearful of his foster mom, and is happy to sit in her lap for marathon petting sessions, accompanied by the low hum of his steady purring. Easy does it with Yeti; this shy sweet boy is very chill, and he loves his kitty condo! He especially likes napping away in the cubby, or sitting on the perch watching goings on in the yard. Neither Yeti nor Stanley like the resident dogs, though!

If you're interested in meeting Yeti and Stanley, please reach out to his foster mom at dominique.co@gmail.com
---
Yeti - REQUIRED COUPLE! and Stanley - REQUIRED COUPLE! have lived together for a long time and are friends! We don't want to split them up, so they've both got to go to the same home together. If you have the room and the love, please consider adopting them both!
---
All About Me!
| | |
| --- | --- |
| Location | Foster Home - Milwaukee area |
| Breed | Domestic Shorthair | Mix |
| Color | Brown |
| Age | 5 months |
| Sex | Male |
| Neutered | Yes |
| Declawed | No |
| Weight | 8 pounds |
| Guest Number | 54172151 |
| Adoption Price | $189.00 |