Back To My Friends
Harry - Available from Foster!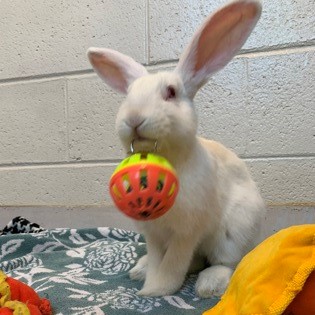 Harry - Available from Foster!
Harry is a male American rabbit. He may be shy at first, but don't let him fool you. After he has a little time to get to know you and feel comfortable in his space, he lets his big playful personality shine!

He loves his daily veggies (spinach and broccoli are his favorites). He also enjoys tossing around his toys and doing kickflips when he's excited!

Consider opening your home to this special guy! Rabbits make great pets because they:

1. are loyal, playful and silly like dogs but curious, independent and smart like cats.

2. don't take up much space and are easy to maintain (making them great for city-dwellers!).

3. are easy to litter train (it only took a couple days before Harry regularly peed in his box).

4. are super smart! they can learn words and commands and become more perceptive the longer you have them.

5. are, compared to other animals, inexpensive and easy to care for (no need to take them out for a walk in the cold Wisconsin weather!).

6. help you stay healthy by keeping your refrigerator stocked with fresh veggies for snacking.

7. are great listeners (just look at those ears!).

With a little patience and love, Harry will make an amazing pet! Email megansfostersmke@gmail.com to learn more or set up a meet-and-greet.
---
All About Me!
| | |
| --- | --- |
| Location | Milwaukee Campus |
| Breed | American | American |
| Color | White |
| Age | 4 months |
| Sex | Male |
| Neutered | Yes |
| Weight | 2 pounds |
| Guest Number | 51062765 |
| Adoption Price | Name Your Own Fee |