Back To My Friends
Sleepy - Available from Foster!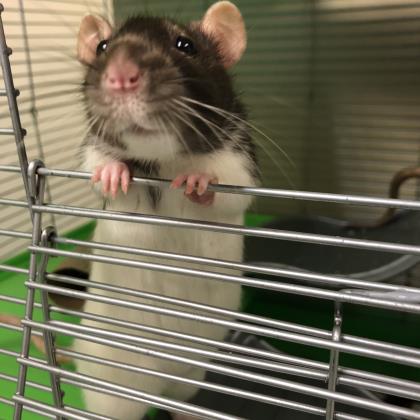 Sleepy - Available from Foster!
Sleepy is the cage keeper of the trio. Work, play, sleep (and snack) are the daily duties of this ratty. Sleepy knows the last thing you want to do when you are ready for bed is to remember that you forgot to put on the sheets. That is why Sleepy gets right to it when there is bedding to address by 'making the bed' in the igloo, shuffling and spreading around the pile to make a comfy spot to grab some ZZZs. Sleepy also enjoys relaxing and will often grab a snack or two and go hang out in the hammock for an afternoon siesta. Snoozing is not the only thing this ratty likes to do. Sleepy joins in the rat pack shenanigans of running around, playing with new toys, and munching on treats.

If you are interested in adopting Sleepy, please contact missolivet@gmail.com
---
All About Me!
| | |
| --- | --- |
| Location | Milwaukee Campus |
| Breed | Rat |
| Color | White | Chocolate |
| Age | 1 years, 1 months |
| Sex | Female |
| Spayed | No |
| Weight | 279 grams |
| Guest Number | 49990994 |
| Adoption Price | Name Your Own Fee |