Back To My Friends
Marilyn - Available from Foster!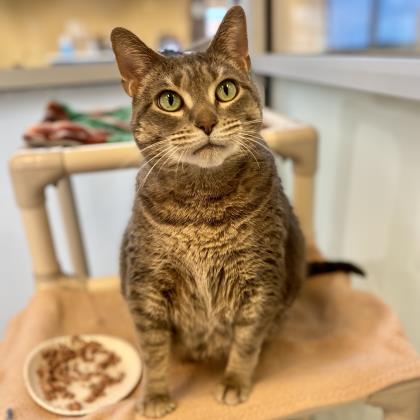 Marilyn - Available from Foster!
Marilyn is a very social cat who loves to spend quality time with people and is not shy around strangers. After taking a few days to warm up to you, she will crawl right into your lap and fall asleep. She loves to be pet on the face and head, but she is less receptive to being touched elsewhere-- if she is in the mood for that, though, she'll rub right up against you. Marilyn can be a little sassy at times, letting out a little hiss whenever you do something she doesn't like (such as kick her off your lap while she's asleep), but this behavior has decreased in just the few days we've had her. She will make the perfect low-maintenance, friendly companion for the right people.

If you are interested in adopting Marilyn, please contact her foster at carolinewhite0@gmail.com.
---
All About Me!
Location
Milwaukee Campus
Breed
Domestic Shorthair | Mix
Color
Blue
Age
12 years, 3 months
Sex
Female
Spayed
Yes
Declawed
Front
Weight
17 pounds
Guest Number
49665833
Family Recommendation

PG-8

No children under age 8
Adoption Price
Name Your Own Fee