Back To My Friends
Joey Tribbiani-Available from Foster!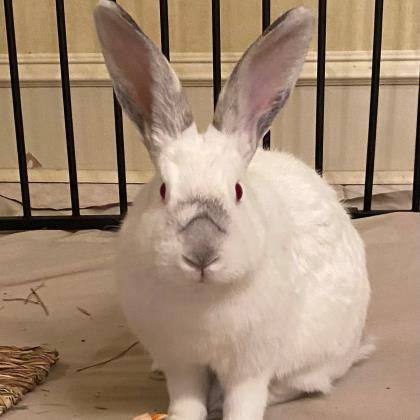 Joey Tribbiani-Available from Foster!
Nice to meet you, I'm Joey T! As you can tell from my photos I'm a VERY handsome boy. Sweet and fun, too! I'm a bit new to this whole adoption scene and was a little outta sorts when I first arrived at my foster home... The litter box was in the wrong place in my enclosure and there were all these dogs in the house, barking, and wanting to look at me... I didn't know what to make of it! Well, let me tell you, I have conquered those fears, big time. My foster mom moved my litter box to the correct place in my enclosure and now I use it diligently as intended. She said that I am a very tidy bunny and that I'm really cute, too. I am also curious, smart and (newly) fearless. I'm a large bunny! Not overweight or anything, just a big boy.

When my foster mom comes in my enclosure I love to get real close and make it difficult for her to get good photos of me (she's like the paparazzi!), but I do love it when she pets me and I'm always down for a good snuggle! I often play it cool at first though, and hop around a bit. I like to make her earn those snuggles!

Overall, I am a good boy who would probably be like the popular kid at school because I'm active, social and fun. I keep myself fairly busy during the day researching options to escape my enclosure while my foster mom is at work in another room. She says I'm adorable. I chew on bunny toys, too, and hunt for treats in my grass mat. I also enjoy sniffing the dogs and cat through my enclosure but in the evenings... Look out! I usually run around the kitchen and sun room like a mad man, and I LOVE it!

If good looks, charm, and a sweet & savory personality are your thing, we might be a perfect match! Life is good but it would be even better if we were together :) If you're interested in adopting me, please contact my foster at Dominique.co@gmail.com.
---
All About Me!
| | |
| --- | --- |
| Location | Milwaukee Campus |
| Breed | Californian | Rabbit |
| Color | Lilac |
| Age | Age Unknown |
| Sex | Male |
| Neutered | Yes |
| Weight | 6 pounds |
| Guest Number | 49157740 |
| Adoption Price | Name Your Own Fee |