Back To My Friends
Chunky Monkey-Available from Foster! - FFA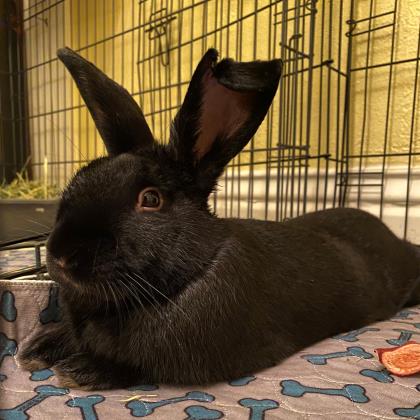 Chunky Monkey-Available from Foster! - FFA
And coworker of the year goes to... Chunky Monkey! This lil guy is all spunk and personality, and he'll make a great office mate for anyone working from home. He can hardly wait to see his person in the morning, clamoring for breakfast greens and ready to run some laps around the room! Currently residing in his foster mom's office, Monkey LOVES jumping around outside his enclosure and inspecting e-v-e-r-y-thing. He seems to have no fears-he has enjoyed meeting the dogs, cat and humans in his foster home.. And if he doesn't like you, he'll let you know by rushing you head first (tho he does not have direct contact with his furry foster siblings). He's no pushover, but mostly, he's quick to befriend anyone with a treat.

Monkey has excellent litter box manners and does not have accidents when free-ranging outside of his enclosure. While cruising around the office, he sometimes hangs by the dog gate, looking out for his friends (the dogs and cat). He's a very social and active little monkey, galloping around the room like a bucking bronco, sniffing everything in sight, and just stretching out. But be sure to hide the electrical chords! He finds them fascinating.

This gregarious little bunny is starting to let his foster mom pet him but so far no pick-ups, please! He would love a furever home chock full of fresh greens and bunny treats with plenty of room to do his bunny burners (supervised!) around the house. If you bring the love and attention, he'll supply the laughs, this sweet boy is all about living his best bunny life.

If you are interested in adopting Chunky Monkey, please contact his foster at dominique.co@gmail.com.
---
All About Me!
| | |
| --- | --- |
| Location | Milwaukee Campus |
| Breed | American | American |
| Color | Black |
| Age | 3 years, 2 months |
| Sex | Male |
| Neutered | Yes |
| Weight | 6 pounds |
| Guest Number | 48305423 |
| Adoption Price | $25.00 |