Back To My Friends
Tobi - Available from Foster!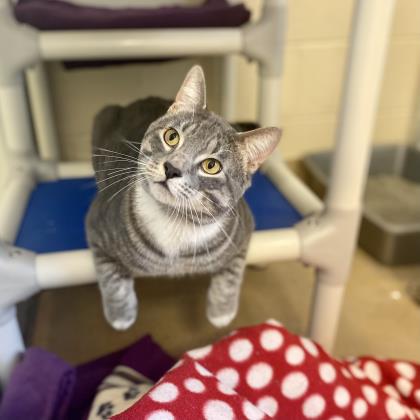 Tobi - Available from Foster!
Hi! My name is Tobi, and I am available for adoption while staying in my foster parent's home. The reason I am in foster is because of my personality. I am high energy with two very different personalities that switch back and forth within seconds. I know my good looks and head butts are very intriguing and that is how you will fall for me. I have a very high energy level and a high level of inappropriate play. At first, I'm very lovey and ask for pets, then as soon as you start petting, I use my mouth to get you to stop. I love to run, jump, crouch, stalk, meow, purr, investigate, and use my bed as a toy! I will also climb on you, lay down and purr very loud. I typically will lay on you and relax as you do, as long as you keep your hands off my back and keep the petting on my head. My foster parent has given me a lot of time to adjust and has been very patient with me. One of our favorite things to do is play with the laser pointer. I know I will need time to get to know you, as you will with me. I have a long way to go, but I know with the right match I can be a great companion.

If you are interested in meeting Tobi to adopt, please contact Mceryes@wihumane.org

This animal is one of the over 4,000 animals the Wisconsin Humane Society placed into foster care this year. Foster homes provide the care, love, and support animals need to thrive before they are ready to find a new home. To put it simply, fosters save lives - thousands of lives. You can find more information about joining one of the most robust foster networks in the country by heading over to this link: https://www.wihumane.org/foster (copy & paste into your browser). Animals need foster for a variety of reasons and we're confident we have a match for you and your lifestyle. What are you waiting for? And did we mention that fosters often get first "dibs" on their foster animals? Become a foster today!
---
All About Me!
Location
Milwaukee Campus
Breed
Domestic Shorthair | Mix
Color
Blue | White
Age
1 years, 3 months
Sex
Male
Neutered
Yes
Declawed
No
Weight
14 pounds
Guest Number
46172684
Family Recommendation

PG-13

No children under age 13
Adoption Price
Name Your Own Fee