Back To My Friends
Banshee - Working Cat!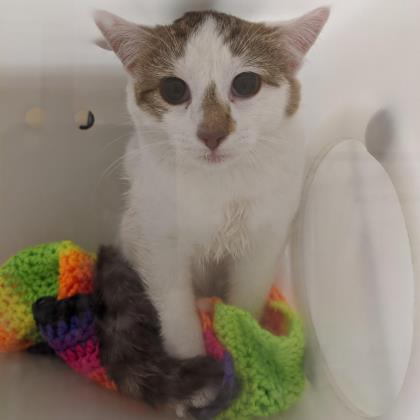 Banshee - Working Cat!
Banshee is looking for a job where human companionship is not part of the job description. Sometimes cats who cannot live as household companions make excellent working cats and thrive in non-traditional home environments like barns, breweries, stables, etc. Cats placed through the Wisconsin Humane Society's working cat program are independent cats who prefer to limit their interactions with humans. These cats may be shy or fearful of people and prefer the company of other cats and animals. However, the degree to which they keep their distance varies from cat to cat and may change over time. Working cats often develop strong bonds with other cats, which is why the Wisconsin Humane Society recommends that at least two cats be placed together. If you are interested in adopting working cats, please email us at barncats@wihumane.org!
---
All About Me!
| | |
| --- | --- |
| Location | Racine Campus |
| Breed | Domestic Shorthair | Mix |
| Color | White | Brown |
| Age | 1 years, 1 months |
| Sex | Female |
| Spayed | Yes |
| Declawed | No |
| Weight | 6 pounds |
| Guest Number | 45974533 |
| Adoption Price | Name Your Own Fee |