Back To My Friends
Bear - Available from Foster!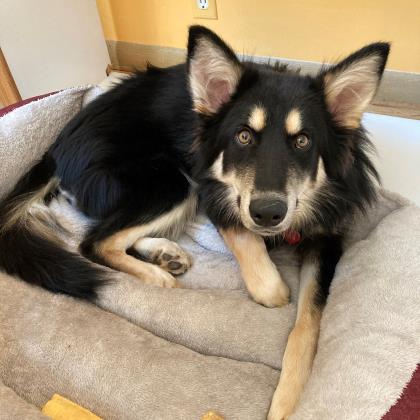 Bear - Available from Foster!
Bear is a pup with some special needs. He's working on his confidence, and is going to do best in a quiet home with no small children and a resident dog who is confident, playful, and who wants a buddy. Bear is not currently house trained and initially may be so shut down you would need to carry him outside. You must have a secure, fenced yard as he does not walk on leash. Ideally, he could stay in a room that opens onto the fenced yard as he adjusts to you and his new home. Adopters will need to be prepared to allow him to take extra time to adjust to a new home and new people. He may warm up to the household and become a confident, relaxed member of the family, however, some fearful dogs remain fearful throughout their lives and you should be prepared to work with a trained professional one-on-one to help Bear reach his highest level of comfort. He has never shown any aggression and has even done well with a confident cat. With a month in foster he has come a long way and is ready to find that quiet, loving, patient home where he can grow and blossom. His trust, once given, is such a sweet joy, and the look in those big brown eyes when he takes a treat will melt your heart.

Please email whsfosterdiann@gmail.com for more details.
---
All About Me!
Location
Milwaukee Campus
Color
Black | Tan
Age
8 months
Sex
Male
Neutered
Yes
Weight
53 pounds
Guest Number
45534583
Matchmaker
Orange People
Personality
Wallflower
Family Recommendation

PG-10

No children under age 10
Adoption Price
$249.00