Back To My Friends
Diamond - Available From Foster!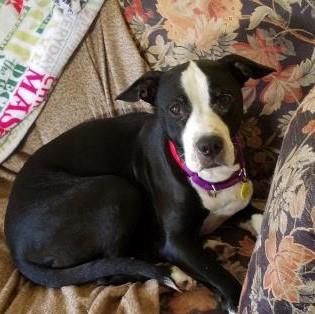 Diamond - Available From Foster!
From Diamond's Foster: Diamond is a spry, spayed 10-year-old female dog who enjoys her walks and her people. She has some separation anxiety (barks and runs from window to window; she is NOT destructive at all) so she needs a homeowner who is home a lot. She is house trained (she whines when she needs to go out) and knows "sit", "treat" and "potty" and is good with my cats - she sometimes wants to get too close to them, but she doesn't chase them and will not harm them. She sleeps with me at night (and is a good dog to sleep with) and sometimes barks at folks walking by.

If you are interested in meeting her, please e-mail charliewihumane@gmail.com
---
All About Me!
Location
Milwaukee Campus
Color
Black | White
Age
10 years, 1 months
Sex
Female
Spayed
Yes
Weight
42 pounds
Guest Number
45007123
Matchmaker
Orange People
Personality
Wallflower
Family Recommendation

PG-8

No children under age 8
Adoption Price
$139.00