Back To My Friends
Volkswagen - Video!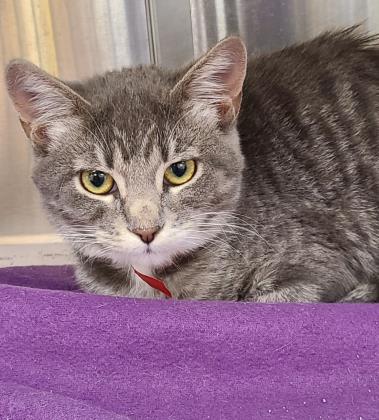 Volkswagen - Video!
Volkswagen's foster mom says: VW is on the shy side, but can be drawn out with wand toys and canned cat food. She has started walking around the room arching her back and rubbing against things, so she wants affection; she's just a little conflicted about it. Given time, I believe she'll warm up nicely to someone, but she needs to go to a home that can give her time and space to come around on her own terms. If you are looking for two, her sister is Ford.

If you are interested in adoption Volkswagen, please contact charliewihumane@gmail.com

This animal is one of the over 4,000 animals the Wisconsin Humane Society placed into foster care this year. Foster homes provide the care, love, and support animals need to thrive before they are ready to find a new home. To put it simply, fosters save lives - thousands of lives. You can find more information about joining one of the most robust foster networks in the country by heading over to this link: https://www.wihumane.org/foster (copy & paste into your browser). Animals need foster for a variety of reasons and we're confident we have a match for you and your lifestyle. What are you waiting for? And did we mention that fosters often get first "dibs" on their foster animals? Become a foster today!
---
All About Me!
Location
Milwaukee Campus
Breed
Domestic Shorthair | Mix
Color
Blue | White
Age
5 months
Sex
Female
Spayed
Yes
Declawed
No
Weight
6 pounds
Guest Number
44960912
Personality
Hidden Treasure
Family Recommendation

PG-5

No children under age 5
Adoption Price
$99.00